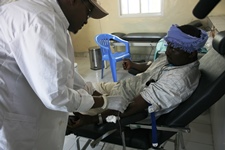 14 June 2014 – Fatuma had been in labour for several hours, when it became clear that her life was in danger. The 20-year-old woman was urgently taken to the hospital, where she underwent a caesarian section. During the operation, she suffered heavy loss of blood and her condition became extremely serious. "We gave her three pints of blood," said a health worker at Garowe General Hospital. "Without transfusion, she would have lost her life."
In Somalia, almost 4000 women die every year from pregnancy or childbirth-related complications. Severe bleeding during delivery and after childbirth is one of the most common causes of maternal death and long-term disability. Timely access to safe blood transfusion is one of the key interventions in cases of complications during pregnancy or delivery.
Fatuma's condition has improved tremendously and she is now ready to go home with her baby. "I am grateful for the generous people who volunteered to donate blood. They saved my life," she said.
"Safe blood for saving mothers" is the theme of this year's World Blood Donor Day, commemorated on 14 June. The campaign aims at highlighting the importance of blood donations, to increase access to safe blood and blood products, and prevent maternal deaths.
In 2013, over 26 000 units of blood were donated through the blood transfusion networks supported by the World Health Organization (WHO) in Somalia. One unit of blood can save up to three lives. Garowe General Hospital, where Fatuma was admitted, hosts one of the 25 blood transfusion units and four blood banks currently functioning in the country. Almost 70% of donated blood was transfused to mothers.
Safe blood transfusion can save thousands of women in Somalia. Yet access to safe and sufficient blood remains very difficult. Laboratories and blood transfusion units are few, and they are mostly confined to urban areas. Where transfusion units exist, they lack trained staff, proper equipment, routine supplies and basic amenities such as water. A poor health care system and infrastructure, coupled with limited access due to insecurity, complicate even further the provision of safe blood transfusions.
WHO's laboratory and blood safety programme works with health authorities to ensure that all blood transfusions are safe and comply with established quality standards. In 2014, the programme continues to support the blood transfusion network to accelerate access to safe blood transfusion. However, only 40% of the US$ 1 million requested to meet needs until the end of the year have been received so far.