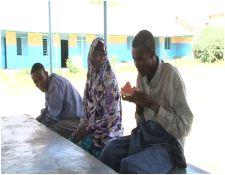 On World Mental Health Day (10 October), WHO is calling for an end to the stigmatization of depression and other mental disorders and for better access to treatment for all people who need it. Globally, more than 350 million people have depression, a mental disorder that prevents people from functioning well. But because of the stigma that is often still attached to depression, many fail to acknowledge that they are ill and do not seek treatment.
One in three Somali's has been affected by some kind of mental illness, a prevalence which is higher than in other low-income and war-torn countries. Many Somali's have experienced beating, torture, rape or have been injured for life. Others witnessed horrific violence against family or friends. The people having a mental illness are socially isolated and vulnerable. The pain of this isolation is felt intensely because Somali culture is traditionally communal and family oriented. The mentally ill are generally chained or imprisoned, however the situation in the country has improved tremendously over the past few years. Somalia has only five health centres (Hargeisa, Berbera, Bosaso, Garowe and Mogadishu) that provide mental health care services.
Kayd, a mental health patient in Hargeisa, received treatment few months ago. "I do not know what caused my mental illness, but about 8 years ago I started to hear voices and became isolated", says Kayd. His family is very supportive and takes good care of their family member. "We came to Hargeisa Group Hospital, because we heard that the mental health ward improved a lot and patients are not being chained anymore. Back home my uncle was chained, so that's why we came here. It took us two days to drive here", says Kayd's nephew. Thanks to GRT, an Italian NGO that is very active in the area of mental health, Kayd has been discharged and goes back home this week, starting a new future.
More information:
A short 4-minute video which looks at depression from the perspective of a person suffering from the condition and what can be done about it