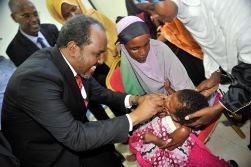 His Excellency Hassan Sheikh Mahmoud, President of Somalia, administering a vitamin A supplement to a vaccinated child during the launch ceremony18 November 2015 – A nationwide measles vaccination campaign has been launched in Somalia, aiming to reach 4.4 million children aged between 9 months and 10 years.
Vaccinations will be provided through a network of fixed, temporary and mobile posts. Children will also receive vitamin A supplements to help improve their overall immunity. The extended polio infrastructure in Somalia will support delivery of the vaccine and campaign monitoring. Nearly 6000 health staff and mobile teams are participating in the campaign.
So far in 2015, almost 7000 suspected cases of measles have been reported in Somalia, with the majority of cases occurring in children below five years of age. Routine immunization is very low in some parts of Somalia. It is estimated that up to two thirds of children under aged under 1 year are not reached due to insecurity and access issues. Health partners will continue to support implementation of supplementary immunization campaigns and child health days to reach as many children as possible and protect them against vaccine-preventable diseases.
Measles is a life threatening disease but can be prevented through immunization. Children most at risk are those living in slum areas, internally displaced person (IDP) settings and areas with poor sanitation and poor standards of living. WHO and UNICEF are supporting the Ministry of Health to enhance and expand routine immunization systems and coverage to reduce the morbidity and mortality caused by vaccine-preventable diseases.
The campaign, organized by the Government of Somalia, with the support of WHO, UNICEF, the Measles and Rubella Initiative and other partners, was launched in Mogadishu by H.E. Hassan Sheikh Mahmoud, President of Somalia, the Minister of Health, other cabinet ministers, national dignitaries, community elders and representatives from United Nations agencies in Somalia.
Related links