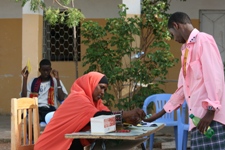 More than 60 TB centres are established in Somalia. Photo credit: WHO.Tuberculosis (TB) is an infectious bacterial disease caused by Mycobacterium tuberculosis, which most commonly affects the lungs. It is one of the most common communicable diseases in Somalia.
The latest estimate for all forms of TB in Somalia was 290 per 100 000 population in 2009. The incidence of sputum smear positive cases was 160 per 100 000 population.
In recent years, high reported incidence rates of TB have made it a priority for national health authorities, WHO and their partners.                                                                                                     
The objectives of the TB programme are to:
provide technical support to  all Somali stakeholders in TB control and programme expansion
design and implement operational research to strengthen TB management
continuously train health workers in public and private institutions
supply quality-assured anti-TB drugs
support the initiation of a multidrug-resistant TB surveillance and management system.
National guidelines have been developed for the implementation of the directly-observed therapy, short course (DOTS) as the major TB control strategy. The national TB programme started implementing DOTS in 1995.
WHO has established around 66 TB centres in Somalia.