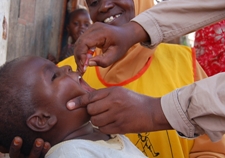 WHO and partners conduct cross-border vaccination campaigns to avoid vaccine-preventable disease outbreaks. Photo credit: WHO.                    Poliomyelitis (polio) is a highly infectious viral disease that mainly affects young children. Somalia has maintained its polio-free status since March 2007. This followed the successful implementation of 28 rounds of supplementary polio immunization activities.
This polio-free status is supported by acute flaccid paralysis surveillance indicators that are above international certification standards. The last wild poliovirus case was reported from Hobyo district in Mudug region.
During national immunization days, a polio team of almost 1000 social mobilizers, 1000 district field assistants and 10 000 vaccinators selected from communities undertakes a door-to-door campaign strategy to reach every child. 
The campaigns adopt a phased approach and have an effective human resource structure. The quality of the campaigns is enhanced by the use of mobile supervisors. On average, 434 sentinel sites are visited and report regularly on acute flaccid paralysis and measles cases.
In 2011, two rounds of polio vaccinations were carried out targeting over 1.8 million children under the age of five across the country.