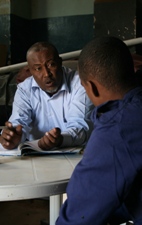 The Chain-Free Initiative advocates for chain-free hospitals, homes and environments. Photo credit: WHO. Mental health disorders comprise a broad range of problems, with different symptoms. However, they are generally characterized by some combination of abnormal thoughts, emotions, behaviour and relationships with others. Examples are schizophrenia, depression, mental retardation and disorders due to substance abuse including khat use.
Prolonged conflict and instability have impacted on the mental and psychological well-being of the Somali people. It is estimated that one in three Somalis has been affected by some kind of mental illness, a prevalence which is higher than in other low-income and war-torn countries.
Currently, Somalia has five mental health centres situated in Berbera, Bossaso, Garowe, Hargeisa and Mogadishu. These provide basic care to people suffering from mental health conditions. However, only three psychiatrists are working in the mental health facilities in the country. Often the limited resources available are spent on large mental hospitals and not on services delivered through the community and primary health care.
WHO, in collaboration with the local health authorities, provides support to the mental health care services in Somalia, and capacity building for primary health care workers on the management of the common mental disorders.
The practice of keeping mentally ill people in chains is common in Somalia, a sign of a lack of adequate mental health care services. The Chain-Free Initiative aims to restore the rights and dignity of mentally-ill persons by advocating for chain-free hospitals, chain-free homes and a chain-free environment where mentally ill patients can receive treatment and care. With the support of WHO, the Initiative has been implemented at the Habeeb Hospital in Mogadishu and at the Hargeisa Group Hospital mental health ward.