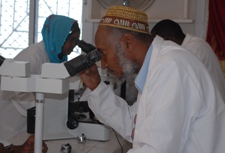 The laboratory programme has been at the forefront of providing timely and quality results. Photo: WHO. Laboratory confirmation is important in the diagnosis and monitoring of health events that is central to the control and eradication of disease.
Tuberculosis laboratories, malaria microscopy centres and blood banks have been established covering all regions of Somalia. There is measles and malaria testing at two reference laboratories in Hargeisa and Garowe. WHO routinely distributes laboratory supplies to hospitals.
WHO also supports blood bank establishment and the installation of blood donation and transfusion equipment at major hospitals in Somalia to provide safe blood and blood products. Services offered at the blood banks include donor counselling, donor education and referral of positive cases of transfusion-transmissible infections for treatment and case managment.
WHO provides training to laboratory technicians on laboratory safety, quality control and assurance, documentation inventory and ethics, and peripheral laboratories in mother and child health centers and regional hospitals.
Diagnostic techniques and procedures