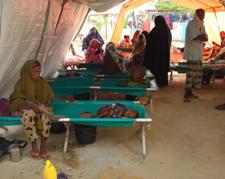 Patients at a cholera treatment centre. Photo credit: WHO.The Integrated Disease Surveillance and Response (IDSR) system is a strategy for multi-disease surveillance of selected priority diseases or conditions. It links the community, health facility, district and national levels, allowing the rational use of resources for disease control and prevention.
More than 200 sentinel sites across the country ensure disease surveillance and early response to outbreaks of waterborne diseases (such as cholera), vector-borne diseases (such as malaria) and vaccine-preventable diseases (such as measles). Other diseases and conditions covered include acute watery diarrhoea, meningitis, respiratory infections and whooping cough.
Disease outbreaks are responded to by sending medical teams to conduct outbreak investigations and rumour verification. Treatment centres or mobile clinics are set up in areas without access to health facilities for response and case management.
WHO also provides alerts on high risk areas and coordinates activities among different partners to ensure an effective response. Community awareness interventions on preventive and control measures of waterborne diseases are periodically conducted to complement house-to-house case management.
WHO is currently:
expanding the IDSR system to conflict-affected communities
carrying out outbreak investigation and response activities
strengthening laboratory confirmation systems
providing support to effective case management and environmental health interventions, including monitoring the quality of drinking water.