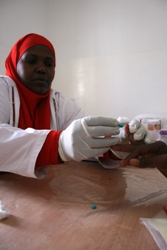 More than 20 health facilities in Somalia provide HIV prevention and treatment services. Photo credit: WHO.
The human immunodeficiency virus (HIV) is a retrovirus that infects cells of the immune system, destroying or impairing their function. The most advanced stage of HIV infection is acquired immunodeficiency syndrome (AIDS).
Available survey data indicate that Somalia has multiple HIV epidemics. In the North West zone, HIV prevalence is generalized, with an HIV prevalence among women attending antenatal care of 1.4% and 1.3% in 2004 and 2007, respectively. HIV infection among sex workers is 5.2%.
The North East and South Central zones have concentrated or low level epidemics. HIV among women attending antenatal care is 0.5% in the North East, while in the South Central zone the rate is 0.5%.
In 2004, integrated HIV/AIDS prevention, treatment, care and support services were established in Somalia with the technical support of WHO and funded by the Global Fund to Fight AIDS, Tuberculosis and Malaria. WHO has trained more than 3600 Somali health workers health workers on delivery of these HIV/AIDS intervention services.
In 2005, the first antiretroviral therapy clinic was opened in Hargeisa. Around 20 health facilities across the country now provide HIV prevention and treatment services, while six provide antiretroviral therapy.
Tuberculosis (TB) is a major cause of death among people living with HIV. TB/HIV collaborative activities are being strengthened, with a focus on data collection.
Syphilis prevalence in the North East and North West zones of Somalia is 1.4% and 1.2%, respectively. Syphilis is a curable infection caused by a bacterium called Treponema pallidum. This infection is sexually transmitted, and can also be passed on from a mother to her fetus during pregnancy. As a cause of genital ulcer disease, syphilis has been associated with an increased risk of HIV transmission and acquisition.
The HIV and sexually transmitted infections programme still faces a number of challenges in Somalia including stigma, the weakness of community-based groups in supporting antiretroviral therapy services and the low service uptake of TB/HIV co-infection patients, including children.
Regional AIDS and sexually transmitted diseases programme