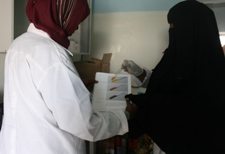 Four minilabs are established at major hospitals in Somalia. Photo: WHO The essential medicines programme conducts a range of activities to improve the quality of medicines available to the Somali population and the effective and rational use of these medicines both in public health care services and the private sector.
As an integral part of strengthening the health system, the main focus of the essential medicines programme is to:
strengthen the medicines supply chain system including management, storage conditions and distribution;
build the capacity of health workers who manage medicines and other health commodities in both the public and private sectors, in their selection, quality, procurement, management, distribution and use;
provide reference materials for drug supply, management and rational use to health workers in English and Somali to promote the concept of "essential medicines" and their rational use;
support national health authorities in building a system, and developing appropriate drug policies and regulations, to ensure the availablity of affordable medicines, of assured quality.                                                                                                            
WHO in collaboration with the National Quality Control Laboratory in Nairobi, Kenya, has established four minilabs at hospitals in Hargeisa, Bosasso and Garowe for monitoring the quality of medicines. Medicine samples are collected from both public and private pharmacies for further analysis at the laboratory.
Related links
Regional essential medicines programme