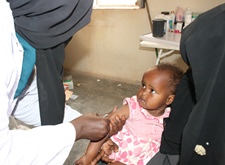 Routine child immunization coverage in Somalia is relatively low compared to the global coverage. Photo credit: WHO. Vaccine-preventable diseases are prevalent in Somalia and child mortality is 200 per 1000 live births. Measles is estimated to be the leading cause of death in children under the age of five.
Despite this, only 30%–40% of children are immunized against the six major childhood diseases. This is relatively low compared to the global coverage of almost 80%. Routine child immunization coverage among one-year-old children for measles is 24% and for diptheria, tetanus and pertussis (DTP3) is 31%.
WHO and health partners support immunization activities in approximately 200 fixed centres and outreach vaccination sites across the country. WHO has established and provides support to immunization units within ministries of health and is instrumental in supervising and coordinating immunization activities in the northern regions of Somalia. WHO continues to train health workers, improve cold chain and support supervisory and monitoring activities.
Child Health Days
Since 2008, Child Health Days, a joint WHO and UNICEF initiative on integrated management of child health, have been held twice a year in Somalia to deliver key life-saving health interventions to children under the age of five and women of childbearing age.
This initiative reaches millions of Somali children with immunization against measles and other vaccine-preventable diseases like poliomyelitis, diphtheria, whooping cough and tetanus. In addition, women of child bearing age are vaccinated against tetanus toxiod. A package of other essential child health interventions, including de-worming, vitamin A supplementation, oral rehydration salt, water purification tablets and screening of nutritional status is also provided.
In 2010, 1.5 million children were immunized and about 1.3 women of childbearing age were vaccinated against tetanus toxiod.
Regional programme on vaccine-preventable diseases