Humanitarian crisis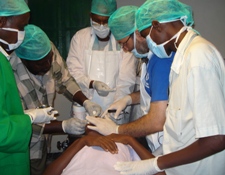 WHO is developing the capacity of health workers to respond to health emergencies, and providing essential health kits for trauma and surgical care. Photo: WHO.Humanitarian needs have increased dramatically in Somalia following severe drought, food price rises and continuing conflict. Millions of Somalis, particularly in the south, are facing acute levels of hunger. Across the country, up to four million people, or 53% of the population, are in crisis, including 1.5 million who are displaced.
Famine was declared in Somalia in July 2011. The affected areas include Bay region, southern parts of Bakool region, parts of Lower Shabelle, Middle Shabelle, and internally displaced persons (IDPs) in the Afgooye Corridor and Mogadishu.
Since January 2011, more than 8000 people have been wounded, according to reports from the three main hospitals in Mogadishu, with 20% being children under the age of five. South Central Somalia is the area most affected by conflict and the resultant displacements of population, disruptions of health services and restrictions on movement.
Health service delivery is hampered by a weak public health system with a lack of infrastructure, health facilities (including supplies, equipment and amenities) and skilled health workers. Combined with the absence of safe drinking water and sanitation, and the low level of immunization coverage, the risk of communicable disease outbreaks is high.
WHO response
WHO's response to the current humanitarian crisis in Somalia focuses on meeting the health needs of IDPs and conflict-affected and other vulnerable communities. This is done through Health Cluster coordination, emergency preparedness, quality primary and secondary health care services for vulnerable people, and outbreak preparedness and response.
The interruption of basic essential health services in Somalia continues to increase the health risks of the Somali population. The low capacity of the local health system and low coverage of essential health services means that innovative approaches are required, particularly for the most affected populations such as children. WHO is providing emergency health services through implementing partners, developing the capacity of health workers to respond to health emergencies, providing essential health kits for trauma and surgical care including disease kits, and setting up field hospitals to increase access.
In response to the famine situation, the main areas of focus for WHO and its partners are provision of an emergency health package for children through mop-up vaccination campaigns, outbreak preparedness and response, mobile clinics to provide emergency health services to the displaced, and emergency surgical care including obstetric care.
Regional emergency preparedness and humanitarian action programme