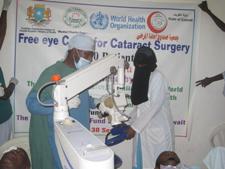 More than 100 000 people suffer from visual impairment in Somalia. Photo credit: WHO.                                 Blindness is a major health problem in Somalia. The estimated blindness prevalence rate is 1.2% and more than 100 000 people suffer from visual impairment. Cataract remains the major cause of blindness in the country. Other causes are corneal opacity, refractive errors and glaucoma.
WHO works in partnership with Manhal International and the Ministry of Health in the three zones to build the capacity of primary health care workers in eye care. It does this by training Somali doctors and providing cataract kits, and diagnostic and surgical equipment.
Currently, there are six specialist eye-centres within major hospitals in Somalia in the areas of Burao, Bossaso, Erigavo, Hargeisa, Laascanood and Mogadishu. A school screening programme has been introduced in Hargeisa and Mogadishu.
Related links
Regional control and prevention of blindness and deafness programme