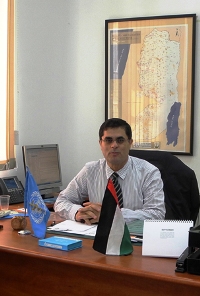 Dr Mahmoud Daher has been acting WHO Representative for the West Bank and Gaza Strip since April 2013. Prior to this post, he served as Head of the WHO sub office in the Gaza Strip where he had worked since joining WHO in 2003.
Dr Daher holds an MPH and PhD in public health and is an expert in health systems and emergency health management. He began his career in health as a nurse, first working in France and then in Jerusalem specializing in critical care. In 2002 he joined the USAID-MARAM project as a research coordinator and taught at the Palestinian Red Crescent (PRCS) College of Nursing.
In WHO, he was emergency and humanitarian action coordinator and national public health officer before heading the Gaza Strip sub office. In 2009 Dr Daher was awarded the WHO Regional Director's Award for his performance during the conflict in the Gaza Strip.
Dr Daher also has expertise in the areas of information management, reporting and analysis, and research and evaluation, and is fluent in Arabic, English, French and Hebrew. He has contributed to many academic papers and reports including publications in the Lancet series on the oPt, participated in health cluster evaluation missions in the Region, and as a guest lecturer in Haifa in Israel, Barcelona and the USA.