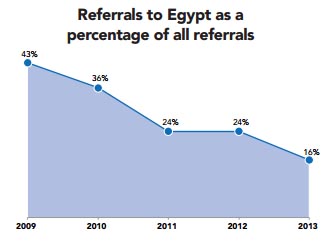 During January, Rafah crossing between the Gaza Strip and Egypt was open on six days only, allowing only 2335 people to leave (only 88 were registered patients along with 82 companions) and another 2123 to enter Gaza. Rafah crossing has been closed to all but exceptional humanitarian cases since July 2013 and has further limited the people's freedom of movement, raising particular concerns regarding the impact of this situation on access of patients to specialized medical services. The Palestinian Ministry of Interior in Gaza stopped registering new cases on 10 January, after reaching 3000 individuals, including patients, needing to cross into Egypt from Gaza. 
Between mid-2010 and mid-2013, Rafah crossing opened on a daily basis, functioning as the primary exit and entry point to the Gaza Strip. The current limited opening policy by the Egyptian authorities, implemented since July 2013, is in the context of measures, addressing insecurity in the Sinai. As part of this, during the second half of 2013 the crossing was closed for a total of 98 days, compared to only 15 days in the previous half of the year. Consequently, the average of passengers in both directions declined 75 per cent, while the average number of patients leaving Gaza for health care dropped 93 per cent.
While there has been no policy change regarding the admission of Palestinian patients at hospitals in Egypt, the unpredictability of the crossing's opening, compounded by the security situation in the Sinai, have discouraged patients from traveling to Egypt. Egyptian hospitals receive Palestinian patients without scheduled appointments, provided that they have their Ministry of Health financial coverage document stamped by the Palestinian embassy in Cairo, or if they pay the cost of their treatment themselves. However, self-funded patients without official medical documents from a Gaza hospital are not eligible as "humanitarian case" according to the Ministry of Interior criteria. 
Additionally, while urgent medical cases and cancer patients travelling by ambulance have been given priority for crossing, their access is being impeded by the limited hours of the crossing on days that it is open; these have been shortened from an average of 8 hours to 5 hours (09.00 to 14.00) since July 2013, although occasionally the buses (accommodating 50 travelers each) have crossed after 14.00 with special coordination by border officials on both sides. The Palestinian Ministry of Health has asked that patients be given priority over other travelers through a quota system. Due to the continuous growth of the waiting list, the Ministry of Interior in Gaza has recently requested already registered passengers to renew their registration, to better prioritize urgent cases during the brief openings. As of the end of January, there were 600 patients registered with the Emergency Medical Services needing to travel across the border and they had stopped registering new requests.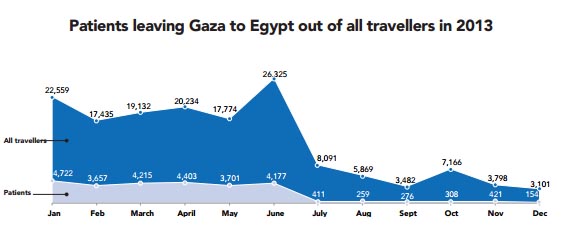 As a result of these constraints, more patients are requesting the Ministry of Health in Gaza to change the destination of their referral to the West Bank (including East Jerusalem) and Israel. 
Referrals to Egypt fell by half after July 2013 and increased by 22 per cent to destinations requiring access through Erez (see chart "Patients leaving Gaza to Egypt out of all travellers in 2013"). This has been reflected in the number of applications for permits to leave Gaza via Erez crossing submitted to the Israeli authorities by patients and their companions: patient permit applications during the second half of 2013 increased by 28.7 per cent compared to the first half of the year: 88 per cent of these applications during 2013 were approved, 11.7 per cent delayed and 0.3 per cent denied. 
You can access this text in OCHA Humanitarian Bulletin, January 2014