Background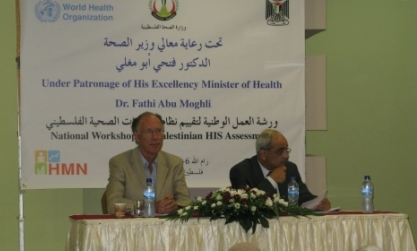 Comprehensive national health information systems (HIS) are considered a key requirement for improving population health. Accurate and timely information support evidence-based decision-making, which leads to better health service provision and improved health status of the population. The Palestinian National Health Strategy (2011–2013) places the need to establish a comprehensive national HIS as a priority area for health system strengthening. WHO, in its recent Country Cooperation Strategy 2009–2013, singles out the development of a comprehensive national HIS as a key area requiring the provision of technical support to the Ministry of Health. The two main institutional bodies responsible for collecting and processing facility-based and population-based health information are the Palestinian Health Information Center in the Ministry of Health, and the Palestinian Central Bureau of Statistics, a separate statistical body established through a presidential decree.
WHO supports the Ministry of Health in health information system strengthening
Information gaps
In spite of efforts made by the Ministry of Health and several partners to strengthen health information systems, there is still much room for improvement, especially in terms of comprehensiveness and integration of the system. Quality of data collection has to be improved, data analysis capacity at central and district level remains insufficient. Many types of data that are essential for effective health system planning and management are not available for formulating long-term strategies or for addressing emergency health needs. Many health care providers, nongovernmental organizations and international agencies collect and analyse data to monitor their own programmes and activities, resulting in a scattered and sometimes inconsistent and contradictory flow of information. A framework for health system performance assessment operated by the Ministry of Health is also needed to measure progress towards the implementation of the National Strategic Health Plan.
Health information programme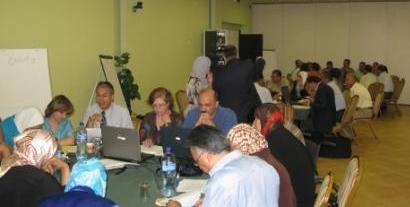 WHO provides technical support to teh Ministry of Health in various areas, including health information, noncommunicable diseases, health policy and planning, HIV/AIDS and tuberculosis and is considered as the Health Cluster lead during emergency and non-emergency situations.
Within the area of health information, WHO recently finalized a participatory assessment of the national health information system based on the Health Metrics Network assessment tools. The majority of national health providers participated, including the Ministry of Health, Palestinian Central Bureau of Statistics, nongovernmental organizations, universities, international nongovernmental organizations and main donors.
Assessment tool included 197 questions addressing six components namely: 1) resources; 2) indicators; 3) data sources; 4) data management; 5) information products; and 6) dissemination and use. Assessment results were used to prepare a national health information system strategy and action plan currently in its final review phase.
Other activities include those agreed between the Ministry of Health and WHO in the joint programme governance workplan (2012–2013); mainly the update of the health facilities database that was first established in 2002 and updated in 2009. The health facility database includes information on the geographical distribution of health facilities by districts and localities, types of services provided, availability of human resources and specialties and availability of equipment, in addition to a summary on the activity reports of the hospitals. Information on health facilities will be mapped using the geographic health information system; both interactive and hard copy maps will be available.