Scale up prevention, strengthen care, and enhance surveillance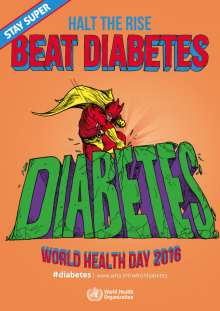 13 April 2016, Jerusalem: The Palestinian Ministry of Health has commemorated World Health Day by promoting effective strategies for beating diabetes in Palestine, in coordination with the World Health Organization's highlighting of early detection and prevention of diabetes. Palestine has high prevalence rates for this major disease, which will likely worsen in coming years due to modern diets of refined foods and high carbohydrates, and sedentary lifestyles.
Diabetes can be prevented with effective lifestyle changes, including maintaining a healthy diet, regular physical activity, normal body weight and avoiding tobacco. However, these measures are not widely implemented by the public.  According to the Ministry of Health/WHO national survey of NCD risk factors (STEPS  2010/2011), 9 out of every 10 Palestinians living in oPt have at least one risk factor for a non communicable disease, whether diabetes, heart disease, cerebrovascular disease, or cancer. About 58% of men and women aged 15–64 are overweight and of these, 27% are obese; 75.3% do not exercise and 20% are currently smoking.
Simple screening tests allow early detection. If detected, timely and appropriate diabetes management can prevent or slow the progression of diabetes and long-term complications, including cardiovascular, kidney and eye disease, ultimately affecting quality of life and contributing to premature death.
The Ministry of Health with WHO support has worked to establish relatively well-developed services for noncommunicable diseases in the oPt. WHO Head of Office, Dr Gerald Rockenschaub emphasized, "There is need for more work on diabetes, especially having patient care widely available at MOH and UNRWA primary health care level for diagnosis, treatment and follow up for uncomplicated hypertension, diabetes mellitus, heart disease and chronic lung diseases. Early detection of diabetes is key at primary health care level." 
In 2013 the WHO Package of Essential Non-communicable Disease Interventions for Primary Health Care (PEN) has been the signal tool for introducing evidence-based and cost-effective interventions for NCDs. The PEN is now implemented in all primary health care clinics in West Bank and in 2 districts in the Gaza Strip – Rafah and Gaza – with expansion planned.
The number of new cases in Palestine reported annually, or incidence rate, has ranged between 150 to 220 per 100 000 population, but reported cases are considered to represent half of actual cases. Most diagnosed cases are insulin-resistant type 2, although juvenile onset, insulin-dependent type 1 diabetes, which represent about 5% of cases, are rising.  
WHO campaign materials