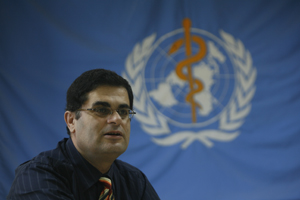 Dr Mahmoud Daher, Head of Gaza sub-office, oPtOn this special occasion of the World Health Day, 7 April 2015, Director General (DG) awarded WHO Head of Gaza office, Mahmoud Daher, the DG Reward for Excellence for the Eastern Mediterranean Region, for his ability to position the WHO Office in Gaza as the leading authority among health partners in Gaza, through its capacity to respond promptly to crisis and maintain the lead role at all times. A total of 176 nominations of WHO colleagues who made an exceptional contribution to the Organization in 2015 were received, showing the participation of WHO staff and appreciation for excellence within WHO and the commitment to continuous improvement. Only one nominee from each of WHO's five regions was selected.
Dr Daher has been the Head of the Gaza-sub office since 2007. He joined WHO in 2003. In 2009, Dr Daher was awarded the WHO Regional Director's Award for his performance during the conflict in the Gaza Strip.
Dr Daher holds an MPH and PhD in public health and is an expert in health systems and emergency health management. He also has expertise in the areas of information management, reporting and analysis, and research and evaluation, and is fluent in Arabic, English, French and Hebrew. In WHO, he was emergency and humanitarian action coordinator and national public health officer before heading the Gaza Strip sub office.