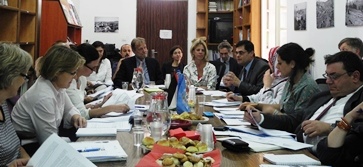 WHO hosts donor roundtable to discuss health barriers in Gaza, Jerusalem 2015June 2015 Jerusalem - The WHO office in Jerusalem hosted a meeting of 25 representatives from donor and United Nations agencies to discuss strategies for addressing problems facing health care services in Gaza. The meeting, co-chaired with the Swiss Agency for Development and Cooperation (SDC), aimed at sharing ideas among interested partners about health advocacy for Gaza, particularly regarding the free movement of people and materials.
The discussions followed detailed presentations about key right to health issues in Gaza, humanitarian conditions and the status of health reconstruction following the summer 2014 war, and the crisis regarding salary payments for health personnel. WHO Head of Office, Dr Gerald Rockenschaub, noted, "Social determinants of health such as poverty, lack of employment opportunities, insecure water and energy resources and movement restrictions, have a significant impact on Gaza residents and also hinder the health system." SDC Director Ms Veronique Hulmann, encouraged greater international engagement on health issues, both for addressing the immediate problems and for longer term investment in the sector.
The financial crisis in the Palestinian Authority signals that without investment from donors the health system will likely weaken further, especially given the high rate of population growth. WHO Gaza office head, Dr. Mahmoud Daher, pointed out, "Equipment exhaustion, limited technical capacity and the chronic shortages of medicines and medical disposables have increased the need for patients to be referred for more costly referral treatment outside of Gaza, primarily to Palestinian hospitals in East Jerusalem. However, access is difficult and is contingent on obtaining Israeli approval which is not always granted.
The meeting was a follow-up to the field visit to Gaza that WHO organized for donors in late April to see problems with continuity of care at an under-equipped major hospital and a clinic in an area that had been ravaged in the 2014 war in Gaza. 
Related Links:
WHO invites international agencies for Gaza field visit to see health challenges