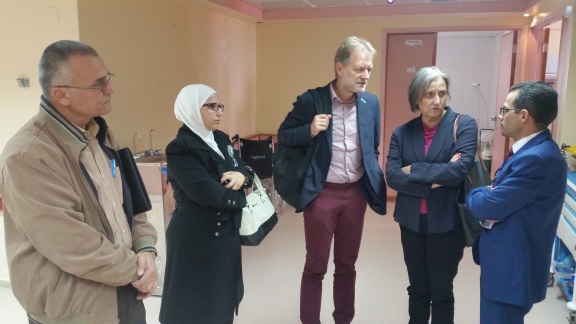 WHO Head of Office makes solidarity visit to Hebron hospital where patient was abducted and cousin killed Jerusalem, 17 November 2015 – WHO Head of Office for the West Bank and Gaza, Gerald Rockenschaub, visited Ahli Hospital in Hebron today to express "solidarity and concern" over the latest and most serious incident in a series of incursions into Palestinian health facilities by Israeli security forces. 
Dr Rockenschaub, the WHO advocacy team and a fieldworker from the Office of the High Commissioner for Human Rights (OHCHR) met with Ahli hospital medical director, Dr Jehad Shawar, and senior hospital staff and eyewitnesses to understand the chain of events that occurred on November 12 when 21 armed men entered in disguise at 3 am to arrest a patient from the hospital. In the arrest operation, a family member was shot and killed and a second family member was left handcuffed to the bed in the patient's room, which housed four other patients at the time.
Dr Shawar said, "Our staff are still in shock about this tragedy at our hospital. A man was killed in front of a young patient. We could not protect our patient or our staff." The patient had suffered critical bullet wounds two weeks before his arrest and had undergone four life-saving surgeries, including a vascular graft in his neck. His physicians said his condition had been stable, but expressed concern about his status considering the manner in which he was arrested and transported. He is currently in an Israeli hospital and remains in detention.
"The right to health means that hospitals, health workers and patients should be respected. Violence in a hospital puts everyone at risk and causes people to become afraid of seeking health care," Dr Rockenschaub pointed out. WHO is documenting incidents of attacks on health facilities as part of its advocacy work with duty-bearers. The 200-bed Ahli nongovernmental hospital is the main referral centre in the southern West Bank and has been treating about 40 injuries a week.
At least 6 hospitals and clinics have been entered by force in recent weeks, and the Palestinian Red Crescent Society has reported scores of ambulances damaged, delayed or denied access to the injured.