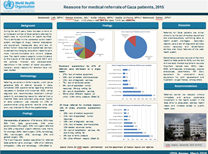 WHO advocacy project staff member, Mohamed Lafi, was awarded top prize for best poster - "Reasons for medical referrals of Gaza patients, 2015" - at the seventh annual Lancet Palestinian Health Alliance (LPHA) conference, hosted by the Jordan University of Science and Technology (JUST) and held in Amman, Jordan 7–8 March, 2016.
The LPHA includes the Lancet, the American University of Beirut and Birzeit University collaborating with other Palestinian, regional and international researchers. The Alliance is committed to using the highest scientific standards in describing, analysing and evaluating the health and health care of Palestinians, in order to contribute to the international scientific literature and to develop local evidence-based policy and practices.
Research by 6 WHO staff, 3 advocacy staff and 3 staff from the Palestinian National Institute for Public Health, were accepted for presentation at the LPHA. One oral presentation on "Medical access for Palestinian prisoners in Israeli prisons and for ex-prisoners" was presented by the Right to Health Advocacy project manager, and 5 poster presentations represented the WHO office in the occupied Palestinian territory. The subjects of the other five posters were: "Assessing roots of gender inequity at Ministry of Health referral level in Gaza," "Implementation of maternal and child health e-Registry in Palestine," "Governance guidance for an eRegistry for maternal and child health: Lessons from Palestine," and "Feasibility assessment of integrated road traffic casualties registry in West Bank, Palestine."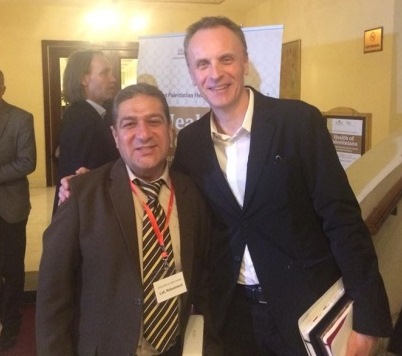 Richard Horton, the chief editor of the LANCET, awarded the prize to the winners as recognition of talent after the posters were reviewed independently. "This is to recognize a huge talent shown in this meeting" said Horton.
An additional activity to the 2016 LPHA Conference took place on 10 March at Birzeit University oPt, where findings from presentations are shared with stakeholders and policy options identified.
LANCET posters 2016
Reasons for medical referrals of Gaza patients 2015
Assessing roots of gender inequity at Ministry of Health referral level in Gaza
Assessment of data quality in the Palestinian Cancer Registry, West Bank, Palestine
Implementation of maternal and child health e-Registry in Palestine
Feasibility assessment of establishing integrated road traffic casualities registry in West Bank, Palestine