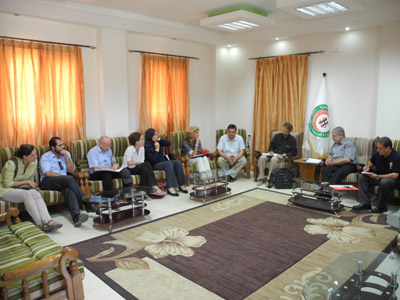 9 September 2015, Gaza – The World Health Organization (WHO) facilitated a visit of the Swiss Agency for Development and Cooperation (SDC) to Al-Shifa hospital in Gaza. Mr Thomas Oertle,  Head of SDC Middle East and North Africa Division, and his deputy, Mr Markus Bächler, were accompanied by local SDC representatives. The Director of Al Shifa and the Chief of UNRWA's health programme in Gaza briefed them on the current health situation and the challenges faced by the Ministry of Health.  
Al-Shifa is the largest hospital in Palestine, with 900 beds and 1656 employees. The hospital receives 800 outpatients and 1000 emergency visitors daily, but faces chronic drug and staff shortages, has no radiotherapy services, and faces problems with reliable power and fuel supplies, as well as requiring training and capacity-building.
"Medicine shortages increase the demand on referral abroad for treatment which add another layer of complexity to the long process of referral and the fact that 20% of referred patients are not granted permits to access health care," according to Shifa's Director. "Last week because of an electricity blackout and the unavailability of fuel, services in Al-Rantisi pediatric hospital were suspended for 12 hours and children needing dialysis were at real risk."
Dr Ghada Al Jadba, Chief of UNRWA's Field Health Programme in Gaza, emphasized on the importance of looking at the social determinants of health, such as the political situation and its impact on the economic situation and on the psychosocial well-being of the population, especially women and children. The demographic features of the strip, including 55 000 newborns annually, add an extra burden on the overstrained health system.
"Lack of investment in the last 20 years and development in the last 8 years has had a devastating impact. It's a very alarming situation for the whole social sector, including health,'' said Dr Mahmoud Daher, head of WHO's Gaza office.