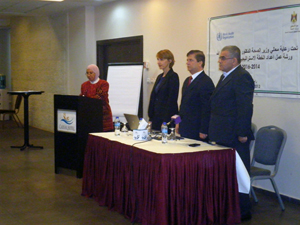 Ms Fawziah Kamal, from the MInistry of Health planning department, Dr Wendy Venter, from WHO, Dr Jawad Awad, Minister of Health, and Dr Naim Sabra, DG at the Ministry of Health28 November 2013, Jerusalem – On November 21, 2013, the Palestinian Ministry of Health, with support from the WHO West Bank and Gaza Strip office, held a comprehensive stakeholders meeting to present the draft 2014–2016 national health strategy. This three-year plan will feed into the Palestinian Authority's National Development Plan, 2014–2016.  Stakeholder participants were from local nongovernmmental organizations, international nongovernmmental organizations and UN agencies, as well as other ministries. 
Five main strategic objectives were outlined in the national health strategy: 
Promote preventative health care and management of noncommunicable diseases.
Ensure comprehensive and integrated health care services for all citizens.
Establish an effective, comprehensive and sustainable quality system for all health services.
Ensure the availability of qualified health workforce capable of delivering high-quality health services.
Enhance institutional development and governance of the health sector.

The Ministry of Health Planning and Policy General Directorate will revise the national health strategy according to input provided by the stakeholders.