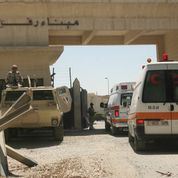 Ambulances from the Palestinian Ministry of Health wait to cross into the Egypt at the Rafah border crossing, the only border through which Palestinians can exit Gaza, in the southern Gaza Strip,10 July 2014. Photo credit: Eyad Albaba/WHO.11 July 2014 – The number of casualties in Gaza Strip from 7 July, when the latest escalation began, until 14:00 11 July, includes 98 Palestinians killed (23 children; 21 females; 4 people over the age of 60), and 680 injured (221 children; 225 females; 19 people over the age of 60).
A second hospital in Gaza Strip was damaged after midnight on 11 July when four Israeli artillery shells were fired from Israel towards Gaza's eastern border. Al Wafa hospital, which is located one kilometre from the eastern border with Israel, suffered a direct hit to the stairwell of its new building.
Twenty-eight patients (16 females; 12 males) on the fourth floor of the building were evacuated temporarily to the ground floor until damage could be assessed, according to the hospital director.  No injuries were reported. The hospital specializes in rehabilitation of patients with paralysis due to stroke or accident injuries.
The closed Rafah border with Egypt was opened exceptionally for humanitarian cases on 10 July by Egyptian authorities; 11 patients, all casualties for orthopedics, neurology or general surgery, exited to Egypt for medical care. The Erez checkpoint remained open for transfer of patients and their companions only, with security coordination; 50 patients and companions exited on 10 July. Keren Shalom crossing point in the south remained open for humanitarian goods, with security coordination. Six trucks carrying medicines from the Ministry of Health in Ramallah crossed 10 July and four more truckloads were expected to cross on 11 July.