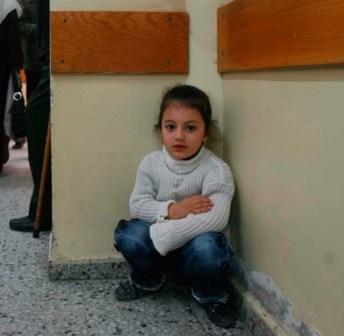 More than half of the Gaza Strip's 1.6 million people are childrenThe blockade on the Gaza Strip, imposed in June 2007, has affected the functioning and development of the Palestinian health care system in a number of ways: restrictions on importation of medical supplies, equipment and spare parts; limitations on movement of patients and health staff; interruptions of power supply and impurities of water supply; insecurity; and the permit regime limiting access of Palestinians to health services, as well as of the professional development of staff.
The Palestinian health care system is an integrated whole, covering West Bank, East Jerusalem and the Gaza Strip. The Palestinian Authority, based in Ramallah, supplies medicines and disposables for Gaza Strip and pays salaries of most of the staff. East Jerusalem hospitals are the main specialized centres for patients from the West Bank and Strip Gaza. Health staff need to travel between the West Bank and Gaza Strip for training and to provide care. The health system cannot function effectively when the Gaza Strip is subject to a blockade and cut off from the West Bank and Gaza Strip.
WHO has joined 50 international organizations in issuing the following statement.
For over five years in the Gaza Strip, more than 1.6 million people have been under blockade in violation of international law. More than half of these people are children. We the undersigned say with one voice "End the blockade now".
Related links
Five years of blockade – a political determinant of health in the Gaza Strip