Yemen has become re-infected with polio. An outbreak of polio started in February 2005. The wild virus was introduced from Sudan, which had become re-infected from Nigeria through Chad. Before this outbreak no wild poliovirus had been isolated in Yemen since the start of acute flaccid paralysis surveillance in 1998. The total number of cases during the outbreak reached 479 with the last case reported from Ibb, with the date of onset as 2 February 2006. 
Yemen had 3 different outbreaks of circulating Vaccine Derived Polio Viruses (VDPVs) since April 2011. One  VDPV2 and 2 separate emergencies of VDPV3 outbreaks. 
Routine immunization against polio has been mandatory since 1979.        
National immunization days were held yearly from 1996 to 2002. They were scaled down to subnational immunization days in 2003 and 2004, due to a lack of resources. Cessation of national immunization days combined with the low routine coverage led to the accumulation of susceptible children and an outbreak. National immunization days were conducted in 2005 and 2006 to control the wild poliovirus outbreak.
Yemen has conducted large scale immunization rounds targeting less than five  years children during the years 2011-2014 to stop circulating VDPVs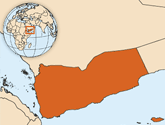 National reporting started in 1998. Virological classification was introduced in 2000. Yemen does not have a national polio laboratory and is served by Oman's national poliovirus laboratory in Muscat. The acute flaccid paralysis surveillance indicators at national level are maintained at WHO certification standard, however, there are concerns about the maintenance of these indicators at subnational level. The political situation may lead to poor performance in some high-risk governorates.
Phase 1 of laboratory containment of polioviruses has been completed and a report documenting the quality of containment activities has been submitted to WHO.
Related links
Targets and percentage coverage by supplementary immunization activity in the Eastern Mediterranean Region by year
Acute flaccid paralysis surveillance indicators in the Eastern Mediterranean Region