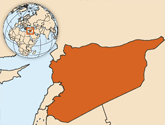 The last virologically-confirmed indigenous case was reported on 29 March 1995, although a virologically-confirmed case was also reported in November 1999. Genetic sequencing confirmed its relation to a virus strain circulating in India and it was considered an importation. No polio cases have been confirmed in the Syrian Arab Republic since then.
Routine immunization against polio has been mandatory since 1964.      
National immunization days were held on a yearly basis from 1993 to 2000. Since 1996, four rounds of supplementary national immunization days have been conducted annually; two rounds are implemented in the Spring and another two in the Autumn. These supplementary national immunization days cover border areas and high-risk areas.
National reporting started in 1993 and the country shifted to virological classification in 1995. Since 1996, surveillance indicators have been above certification level.
The Syrian national poliovirus laboratory is a WHO-accredited laboratory of the Eastern Mediterranean Region poliovirus laboratories network.
Phase 1 of laboratory containment of polioviruses has been completed and a report documenting the quality of containment activities has been submitted to WHO.
Related links
WHO Syrian Arab Republic country office
Syrian Arab Republic certification status
WHO/UNICEF estimates of immunization coverage in Syrian Arab Republic
Targets and percentage coverage by supplementary immunization activity in the Eastern Mediterranean Region by year
Acute flaccid paralysis surveillance indicators in the Eastern Mediterranean Region