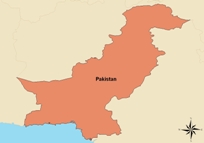 Pakistan is still polio endemic country in the Region. In Pakistan the situation deteriorated, largely owing to conflict, continuing ban by militants on immunization, insecurity and the killing of the polio workers in the field. Polio continues primarily in FATA and the neighbouring province of Khyber Pakhtunkhwa. Currently poliovirus circulation is limited to certain areas of KP/FATA and Karachi Gadap. The incidences of travel of virus from the endemic reservoirs to the other parts of the country are managed very efficiently and effectively.
Political commitment at the highest level is maintained. The management and accountability framework was introduced in Pakistan and a direct disbursement mechanism was also introduced to ensure transparent payment of field staff.
Strategic approach in Pakistan
Routine immunization against polio has been mandatory since 1978. Under the GPEI Endgame Strategic and Legacy Plan 2013-18, there is an urgent emphasis on improving immunization systems starting with priority districts; the introduction of IPV options for managing long-term poliovirus risks and potentially accelerating wild poliovirus eradication. 
National immunization days have been carried out since 1994. Two or more rounds of national immunization days have been conducted each year, in addition to subnational immunization days in high-risk areas. Supplementary immunization activities have been intensified over the years. 
National surveillance reporting started in Pakistan in 1995. Virological classification of cases has been adopted in Pakistan since 2000. Since 1999, the rate of non-polio acute flaccid paralysis below the age of 15 years has exceeded 2 per 100 000 with more than 80% adequate collection of stool samples.
Supplementary surveillance was introduced in 2009 and samples are collected regularly from all the big cities of the provinces: Punjab (Lahore, Rawalpindi, Multan), Sindh (Karachi), Baluchistan (Quetta), Khyper Pakhtoun (Peshawar). This has expanded to Hyderabad, Sukkar and Faizalabad. 
Additional strategies adopted for transmission zones
The program remained continuously introducing the innovative measure to address the challenges; one day vaccination campaigns, SIADs, vaccination at the transit points around these inaccessible areas and introduction of IPV in difficult to access areas. The new approach of one day vaccination campaigns was successfully conducted without any incident of attacks on the workers. National Islamic Advisory Group has been constituted. The objective is to provide high level leadership and guidance for building ownership, solidarity and support for polio eradication particularly in the transmission areas.
Migrant populations within the country and across the borders remain an important factor in virus circulation particularly between Afghanistan and Pakistan and the program is ensuring that these populations across the border are reached and vaccinated through sound micro planning. 
The national poliovirus laboratory in Islamabad is the WHO-accredited regional reference laboratory of the Eastern Mediterranean poliovirus laboratories network. Pakistan's regional reference laboratory is also a WHO-accredited laboratory to perform intra-typic differentiation and nucleotide sequencing of polioviruses. 
Phase 1 of laboratory containment of polioviruses has not been implemented yet. 
Improving the quality of life of polio victims
The regional polio eradication programme continued providing polio affected children with the treatment needed for the physical as well as social rehabilitation. These services include physiotherapy, provision of orthotics and of corrective devices and facilitating schooling, thus, helping the polio survivors to become independent and productive members of the community. 
Pakistan eradication targets
End of 2014
Safe access to all the children for vaccination in the areas of ban on vaccination and areas where other conflict persists
90% of children with >3 doses of oral polio vaccine sustained in all provinces.
Related links
Technical and financial support
Pakistan Technical Advisory Group meetings and reports
Targets and percentage coverage by supplementary immunization activity in the Eastern Mediterranean Region by year
Acute flaccid paralysis surveillance indicators in the Eastern Mediterranean Region