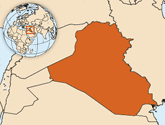 The last laboratory-confirmed indigenous polio case was reported on 28 January, 2000. In 2014 two wild polio cases were reported from Baghdad – Resafa province. Dates of onset of the cases were February and April 2014. Both cases were linked to Syria outbreak of 2013.
Routine immunization against polio has been mandatory since 1985. After reaching high levels in 1980s, routine immunization decreased significantly in the 1990s then increased again.  
National immunization days have been held yearly since 1995. Iraq has carried out at least two national immunization days every year since then. 
National reporting started in Iraq since 1997. Virologic classification was introduced in 2000. Iraq has achieved and maintained certification standards since 1997.
The Iraq national poliovirus laboratory in Baghdad is a WHO-accredited laboratory of the Eastern Mediterranean Region poliovirus laboratories network. 
Phase 1 of laboratory containment of polioviruses has been completed and a report documenting the quality of containment activities has been submitted to WHO.
Related links
Targets and percentage coverage by supplementary immunization activity in the Eastern Mediterranean Region by year
Acute flaccid paralysis surveillance indicators in the Eastern Mediterranean Region