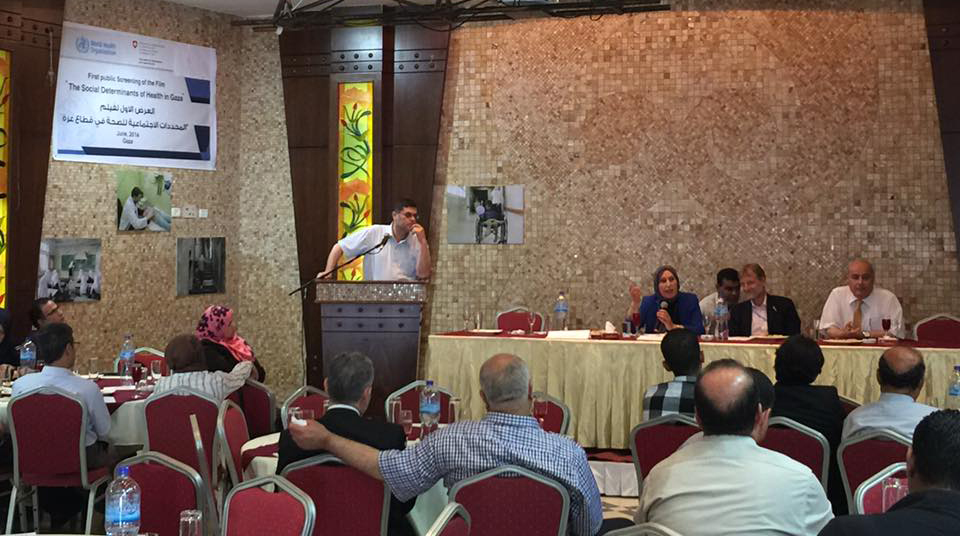 5 June 2016, Gaza Strip – WHO has drawn attention to the social determinants of health of Palestinians living in the Gaza Strip, through the launch of a 12-minute video. The video was shown to a public assembly of health and other service providers in Gaza city on 1 June. More than 150 people attended the WHO advocacy event, including staff from the Ministry of Health, Ministry of Education and Higher Education, academics, civil society and international nongovernmental organizations, as well as UN agencies, UNRWA, donors and media. The video showed how the health and life course of 1.8 million Palestinians in the isolated and besieged Gaza Strip are shaped by the political, social and economic circumstances of daily conditions. It showed families living with poor housing, education and water infrastructure, high unemployment and poverty, poor nutrition and the impact of violence.
Dr Gerald Rockenschaub, WHO Head of Office in the West Bank and Gaza, addressed the group, along with Dr Fouad Issawi, the head of primary health care in the Ministry of Health, and Dr Ghada Al-Gadba, Chief of the Field Health Programme at UNRWA. "Without a political solution, the health system is limited in its ability to positively affect population health," pointed out Dr Rockenschaub. "This video gives us an opportunity to raise issues with a key audience. But we need to broaden efforts and deepen our engagement."
"The world looks to Gaza only during war," said UNRWA's Dr Al-Gadba, "but when there is no increase in services to meet population demand, then the situation deteriorates." Dr Issawi stated that, "the film reflects the difficult situation in Gaza, and the need for adequate responses."
Following the screening, Dr Mahmoud Daher, Head of WHO Gaza sub-office, facilitated an open discussion with audience members. The audience expressed the importance of addressing the broader causes of social determinants of health in the Gaza Strip, and the need for a strategy and recommendations to improve the situation to enable people to enjoy health to its full potential.
Related links:
WHO video: how social factors determine health in Gaza