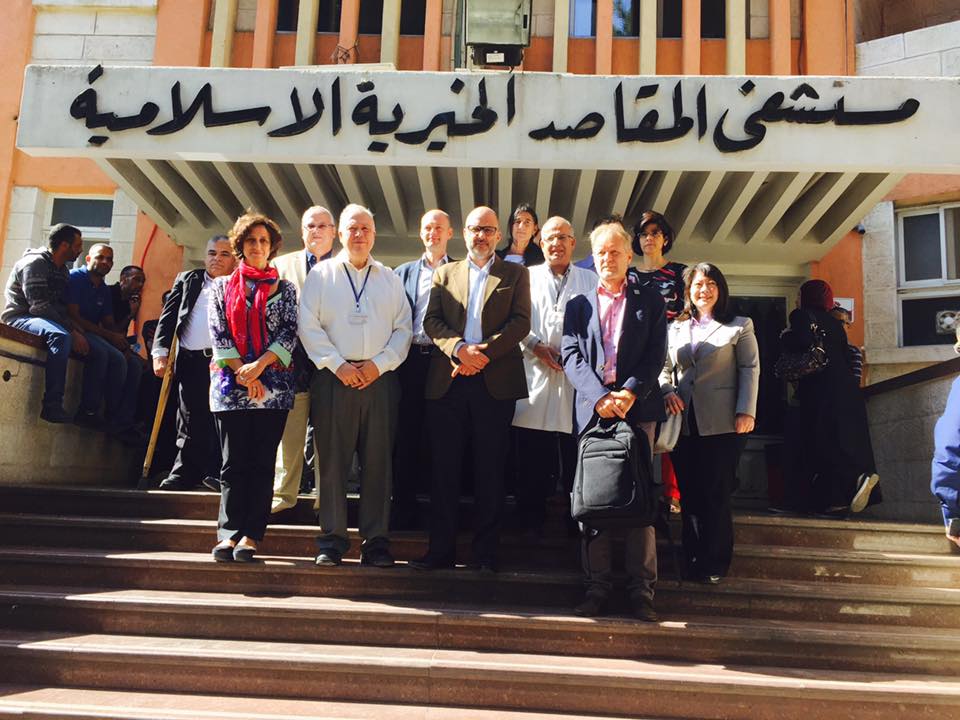 Photo credit: Al-Makassed hospital3 November 2015 – Jerusalem: The World Health Organization (WHO) facilitated a visit by the Humanitarian Coordinator for the occupied Palestinian territory (OPT), Robert Piper, to Makassed hospital in East Jerusalem on 1 November. Senior UN officials from the United Nations Relief and Works Agency, United Nations Educational, Scientific and Cultural Organization, UNICEF, United Nations Population Fund, and the United Nations Office for the Coordination of Humanitarian Affairs accompanied the visit. The Director of the hospital, Dr Rafiq Al Hussaine briefed them on a series of incidents that have hindered and delayed access to health care at the hospital.
Makassed hospital is the main referral destination for Palestinians from West Bank and Gaza, with 250 beds, and 750 employees. On 27 and 28 October armed police forcibly entered the hospital to reportedly obtain the medical files and security camera footage relating to a child who had been treated in the hospital before, and who is currently in Israeli custody. On 29 October, Israeli security forces fired tear gas canisters and other projectiles inside the hospital premises when medical staff were holding a peaceful protest against the recent events. The search operations disrupted health services and caused panic among patients and medical staff. In addition, medical services are being impeded by checkpoints recently established near Augusta Victoria Hospital, following the escalation in violence in East Jerusalem. These obstacles have delayed access of patients and staff.
Dr Gerald Rockenschaub, the WHO Head of Office, pointed out the importance of respecting the right to health by all parties, based on the principles of international humanitarian law and human rights law. He called for protection of health workers to be able to provide health care to all those in need.
"The right to health is a fundamental human right which Israel must respect and protect at all times," Mr Piper concluded.
Related link 
UN Agencies call for respect of health premises and the right to health care