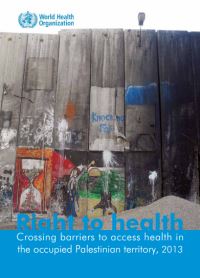 Read the Right to health report10 December 2014, Jerusalem – On the occasion of International Human Rights Day, the WHO West Bank and Gaza released a special report today highlighting reduced access in 2013 to referral health services for Palestinian patients and health providers, especially to the specialist Palestinian referral centres located in annexed East Jerusalem.
The study used data from 2013 from Palestinian Authority ministries, non-profit health providers and from interviews with patients to examine how the Israeli permit system and physical barriers affect patient health and well-being, as well as access for ambulances and hospital workers from the West Bank to the East Jerusalem hospitals.
The Palestinian Ministry of Health refers patients if their medical treatment is unavailable in Ministry hospitals. In 2013, 81.8% of referral patients from the West Bank and Gaza were referred to private health facilities within the West Bank including East Jerusalem and within Gaza, while 18.2% of referrals were to neighbouring countries, namely, Israel, Egypt and Jordan.
Of the 61 635 patients referred by the Ministry of Health in 2013, 57.41% of West Bank patients and 69.47% of Gaza patients required an Israeli-issued permit to access health care. Movement into annexed East Jerusalem for Palestinians with Gaza or West Bank IDs has become more tightly restricted in recent years following the completion of the separation wall around Jerusalem. While the overall number of approved permits (for patients referred by the Ministry and for private referrals) increased in 2013 compared to 2011, the approval rate for permits declined for both West Bank (81.4% to 79.5%) and Gaza (89.8% to 88.7%) patients. The closure of the Rafah border after July 2013 also significantly reduced access for Ministry and self-funded referral patients from Gaza to Egypt.
"This report is the third WHO annual report on monitoring access," said Dr Gerald Rockenschaub, the head of office for WHO West Bank and Gaza. "The data continues to indicate serious restrictions for thousands of patients who are trying to travel to their places of referral."
The report calls on all duty bearers to protect access to health care as an international legal obligation, and urges the international community to press Israel, as the Occupying Power and main duty bearer, to cancel the permit system and facilitate the access of Palestinian patients to their referral hospitals at all times.
Related publication
Right to health: Crossing barriers to access health in the occupied Palestinian territory, 2013