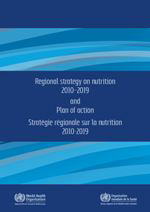 A regional strategy on nutrition and plan of action for 2010–2019 has been developed. The overall goal of the regional nutrition strategy is to improve the nutritional status of people throughout the life-cycle through encouraging countries to reposition nutrition as central to their development agenda.
The strategy will support Member States in enforcing or establishing and implementing action in nutrition according to their national situation and resources. Efforts have been made to make the strategic approaches relevant to each country in the Region.
The strategy focuses on improving the nutritional status of the population, particularly in early life, by preventing and treating malnutrition among pregnant women and children aged up to 2 years, promoting adequate micronutrient intake, integrating actions to address the determinants of obesity and noncommunicable diseases, promoting safe and healthy food choices, providing comprehensive nutrition information and education to consumers, improving nutrition services in the health sector, monitoring and evaluating progressand outcomes using the WHO child growth standards and increasing political commitment. Attention is also given to emergency preparedness.
Essential to the process of implementation is the building of institutional capacity to manage nutrition programmes by encouraging partnerships between governments, universities, communities and nongovernmental organizations, and between governments and the corporate sector, which occupies a central role in the nutritional content of processed foods and in fortifying foods and producing healthy food choices.
The Regional Office will work closely with Member States and provide technical support, in coordination with other key partners and United Nations agencies, to ensure that nutrition occupies a prominent place in national development plans and related programmes to achieve health and nutrition security for all people. WHO will work with policy-makers and decision-makers to promote investment in nutrition as a pressing need that is essential to save the lives of people from malnutrition and noncommunicable diseases and that is also cost-effective. Advocacy with civil society and communities is crucial. The Regional Office will continue to host the Regional Advisory Committee on Nutrition and will monitor implementation of the strategy and plan of action, in coordination with the various organizations involved in nutrition and health.
 Regional strategy on nutrition 2010–2019 and plan of action [pdf 2Mb]