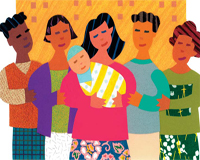 The regional nutrition programme has developed technical guidelines and a training manual for a food and nutrition surveillance system. The system provides an instrument for the formulation, modification and application of a country's food and nutrition policy. Information is collected from various sectors, analyzed and interpreted as a whole.
A food and nutrition surveillance system is only meaningful if it supplies information upon which decisions concerning nutrition can be based. It is part of the machinery by which a government safeguards the nutritional status of its population and is not intended for purely research or academic purposes.
Growth assessment and surveillance is important for epidemiological studies and monitoring. It can be used to describe the nutritional status of a group, to identify populations or population segments at risk for nutrition-related health consequences and to evaluate interventions. WHO recommends that Member States integrate WHO Child Growth Standards into child health programmes to ensure their implementation.