Despite progress in the fight against TB, the disease still represents a grave threat to public health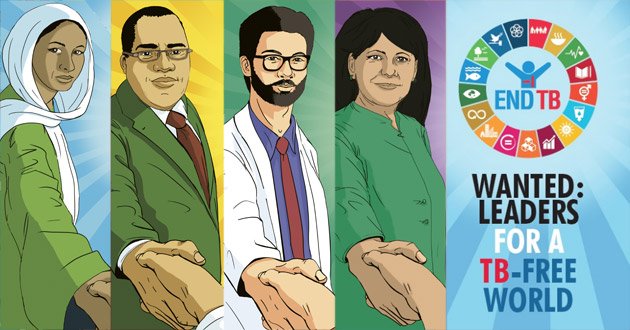 March 2018, Cairo - In 2018, on the eve of World TB Day, marked each year on 24 March, tuberculosis (TB) remains one of the top 10 causes of death worldwide claiming as many as 5000 lives each day. The estimated number of TB cases globally in 2016 was 10.4 million with 1.8 million deaths. In the same year in the Eastern Mediterranean Region there were an estimated 766 000 cases and 82 000 deaths.
The theme of this year's Day "Wanted: leaders for a TB-free world" focuses on the role of leaders in building commitment to end TB, not only at the political level but at all levels. From community leaders, to people affected with TB, civil society advocates, health workers, doctors or nurses, nongovernmental organizations and other partners, all can be leaders of efforts to end TB in their own area of work.
World TB Day aims to raise the public's awareness about the devastating health, social and economic consequences of TB and to step up efforts to end the global TB epidemic. The heaviest burden is still carried by low-income countries and vulnerable groups such as women, children, older people, migrants, refugees, prisoners, ethnic minorities, miners and others working and living in risk-prone settings.
Factors such as malnutrition, poor housing and sanitation, compounded by other risk factors such as tobacco and alcohol use, and diabetes, affect vulnerability to TB and access to care. Furthermore, this access is often hindered by catastrophic costs associated with illness, seeking and staying in care, and lack of social protection, resulting in a vicious cycle of poverty and ill-health. The transmission of multidrug-resistant TB (MDR-TB) adds great urgency to these concerns.
Dr Jaouad Mahjour, acting WHO Regional Director for the Eastern Mediterranean, noted that TB continued to represent a grave threat to public health and much more needed to be done to achieve the End TB Strategy and targets of the Sustainable Development Goals. He highlighted regional progress in the fight against TB saying "Our Region is one of four WHO regions that met the target to halve the tuberculosis mortality rate by 2015 compared with 1990 estimates".
"The TB situation in the Eastern Mediterranean Region varies, some countries have already made significant progress towards TB control but others are still carrying a heavy burden of the disease. National control programmes, health workers, donors, activists and communities have persistently struggled to provide TB care services amid the instability and uncertainty posed by conflicts and disasters in countries of the Region in recent years," said Dr Mohamed Abdel Aziz, WHO's Regional Advisor for the Stop TB programme. "The progress against all odds in the Region's fight against TB is significant. However, there are also major obstacles still to overcome. Despite the availability of rapid diagnosis and low cost treatment, one third of the estimated TB cases in 2016 in our Region were missed or not reported. This is a major challenge for ending the TB epidemic, as it sustains transmission and constitutes a major risk for individual patients," Dr Aziz added.
World TB Day provides an opportunity to shine a spotlight on the disease and mobilize political and social commitment for accelerating progress to end TB and to control MDR-TB that poses a major threat to health security and the gains made in the fight against TB.
Related link for more information and campaign materials
For more information:
This e-mail address is being protected from spambots. You need JavaScript enabled to view it
+202 22765020
www.emro.who.int