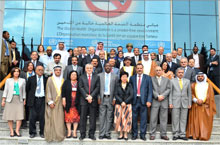 Members of the Regional Committee attended yesterday the opening of the 59th session in the Regional OfficeWith a heavy agenda full of important health issues, and the features of a new health strategy in the Region, the 59th session of the WHO Regional Committee for the Eastern Mediterranean opened yesterday, Monday 1 October 2012, at the Regional Office for the Eastern Mediterranean, Cairo, with the attendance of their Excellencies Ministers of Health and Dr Margaret Chan, WHO Director-General and Dr Ala Alwan, WHO Regional Director for the Eastern Mediterranean. This year, Regional Committee members will address the five strategic priorities as outlined in Shaping the future of health in the Eastern Mediterranean: reinforcing the role of WHO, which sets out broad strategic directions to strengthen WHO's work in the Region for 2012–2016.
These areas of focus, broadly aligned with the five categories for priority-setting selected by Member States, are: health system strengthening, maternal, reproductive and child health and nutrition, noncommunicable diseases, communicable diseases and emergency preparedness and response.
The Regional Committee is WHO's decision-making body in the Region with representation from all 22 Member States of the Region and the occupied Palestinian territory. It is the first session of the Regional Committee since Dr Ala Alwan assumed his duties as WHO Regional Director for the Eastern Mediterranean in February 2012.
Related link
Shaping the future of health in the Eastern Mediterranean: reinforcing the role of WHO [pdf 279.86kb]