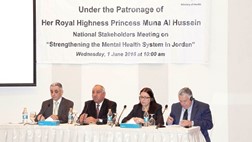 Amman, 13 July 2016  – Under the Patronage of HRH Princess Muna Al Hussein, the World Health Organization (WHO) in Jordan and the Ministry of Health, organized a one day national stakeholders meeting on strengthening the mental health system in Jordan. 
The meeting was part of their joint efforts to review the mental health situation in Jordan, outline some of the main achievements and challenges of the mental health national programme implemented by the Ministry of Health, with the support of WHO and the Jordanian Nursing Council.
WHO invited top level mental health experts who provided guidance and advice on continuing efforts in strengthening governance for mental health, establishing community-based mental health services focusing on the primary and secondary levels of care, promoting human rights standards, and empowering service users and families as active partners in the reform process. 
Consensus was reached among partners and stakeholders at the meeting on the road map for strengthening mental health in Jordan. A road map was developed based on the Global Action Plan for Mental Health 2013–2020 and the Mental Health Regional Framework endorsed at the 62nd Session of the Eastern Mediterranean Regional Committee in 2015. Interactive discussion and feedback were provided by participants on the road map.
As a next step, the National Technical Committee for mental health, a permanent body established in 2011 by HE the Minister of Health, will initiate the process of updating the National Mental Health Plan, which will be based on the existing 10-year national mental health policy document.
Representing the Ministry of Health, Dr Ali Al Saed Bani Naser, Director of Hospitals Directorate, stated that the Ministry of Health was committed to strengthening the mental health system in Jordan, which is reflected in the number of achievements accomplished in collaboration with concerned partners, towards establishing community-based mental health care in Jordan. 
WHO Representative to Jordan Dr Maria Cristina Profili pointed out that Jordan had been at the forefront of mental health reforms and had made a number of important gains over the last years. It was especially important to rejuvenate the mental health system and services in the country in order to be able to provide quality services to all those who are residing within its borders – Jordanians as well as refugee populations.
Related links
Mental health action plan 2013–2020
EM/RC62/R.5
Scaling up mental health care: a framework for action 
English | Arabic | French