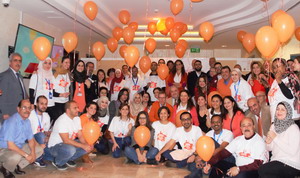 Amman, 29 November 2018 – WHO, UN staff, and health partners in Jordan gathered today at the WHO Hub in Amman to show their support for the 16 Days of Activism Against Gender-based Violence Campaign and this year's Orange the World: #HearMeToo campaign. Everyone showed their support by posting their pledges on the Orange the World board, taking selfies in a special photo frame and then sharing them on social media.
Recent WHO data reveals that the WHO Eastern Mediterranean Region has the second highest prevalence of violence against women in the world, with an estimated 37% of ever-partnered women having experienced physical and/or sexual violence at some point in their lives. The actual prevalence is probably higher, as underreporting of violence against women is common worldwide, in particular in cases of spousal and sexual violence, due to fear and stigma, among other reasons.
WHO works to address violence against women by strengthening the role of the health sector in preventing and responding to violence, supporting survivors, and building research and evidence on what works.
Beyond the 16 days of activism, WHO staff can help move the world towards the goal of eliminating violence against women by speaking out against all forms of violence against women and girls. They can also promote the Global plan of action to strengthen the role of the health system within a national multisectoral response to address interpersonal violence, in particular against women and girls, and against children, endorsed by WHO Member States at the World Health Assembly in 2016.
WHO encourages everyone to raise their voices to STOP violence against women and girls!