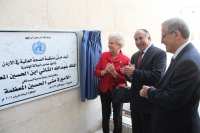 Amman, Jordan – on 9 February 2012, WHO inaugurated a new, state-of-the-art, environmentally-friendly building, located in the city of Amman. The event was held under the patronage of H.R.H. Princess Muna Al-Hussein and was followed by a formal reception at the new premises.
In attendance were high-level governmental officials, diplomats and representatives of United Nations agencies, leading health and development organizations, nongovernmental organizations, professional and stakeholder associations, in addition to WHO staff.
The new building was the first in the Region to receive the first LEED (Leadership in Energy and Environmental Design) gold certification. The land for the new site was kindly granted to WHO by the Government of Jordan, while WHO covered the costs of construction.
The building spans an area of about 4000 m2, it has four storeys, and houses the WHO Centre for Environmental Health Activities and WHO country offices for Jordan and Iraq. Working in the building are people from more than 20 countries, including medical doctors, public health specialists, nutrition and mental health professionals, scientists, environmental health specialists and epidemiologists.
The internationally-recognized green building certification validates that the structure was designed, built and occupied using environmentally-friendly features aimed at: improving efficiency in energy (22.5% savings) and water (60% savings), reducing emissions of carbon dioxide and other greenhouse gases, and refining indoor environmental quality, resource conservation and impact mitigation. The building was designed, constructed and supervised by Jordanian firms and national engineers.