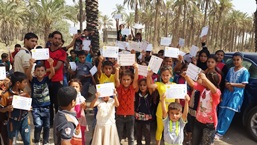 The national TB programme holds a campaign in 2014 to raise awareness of the disease at an internally displaced persons camp in IraqIraq is an upper middle-income country in the Eastern Mediterranean Region. The Region accounts for 25% of the global burden in 2014. TB is a public health priority in Iraq. The country is among 7 of the countries of the Region with a high burden of TB, and accounts for 3% of the total number of cases. There are an estimated 20 000 TB patients in Iraq. Estimated deaths due to TB are more than 4000 annually. 
2014 estimated incidence was 43 per 100 000 with nearly 8268 new and relapse cases reported for 2014. The case detection rate is 54% for all forms of TB cases, mainly due to the poor security situation in some governorates, which report fewer cases as many cases are displaced or lost to follow up. TB clinics in these governorates cannot function normally and staff are often unable to report to their clinics. The national TB programme maintained treatment outcome between 79% and 88% for all cohorts in 2013.
Multidrug-resistant TB (MDR-TB) estimates in Iraq
In 2014, the first ever drug resistance survey was completed in Iraq. The survey results showed that levels of drug resistance in Iraq were low (1.1%). However, it needs to be monitored because: isoniazid (H) resistance is relatively high (7.6%); rifampicin (R) resistant is relatively high (5.9%). In addition, previous treatment with anti-TB and diabetes was the main risk factor for MDR-TB in Iraq. Round 9 of the Global Fund's TB grant supports the procurement of second-line anti-TB drugs.
One achievement for TB in 2015 was development of a national strategic plan 2015–2019. The plan intends to improve case detection, expand the DOTS strategy to remote unreached districts, expand contact tracing, increase collaboration with the private sector, as well as involve communities in TB-related activities.
Another achievement of the national programme has been the establishment of an emergency committee at the national programme's centre to follow up on patients in areas of high incidence. A hotline is used frequently to contact all registered TB patients in these areas. Health and screening campaigns using mobile clinics are conducted regularly in internally displaced persons camps in each governorate.
Related link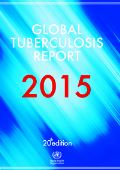 Global tuberculosis report 2015