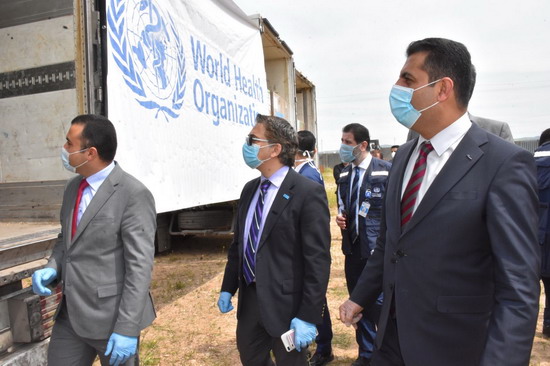 Erbil, Iraq, 19 April 2020 – The World Health Organization (WHO) has provided medical supplies and equipment to the Ministry of Health of the Kurdistan region of Iraq to support response efforts in fighting COVID-19.
The 7-truck consignment totalling US$ 426 732 included 151 pallets of medical supplies, and hospital consumables, in addition to 46 pallets of renewable and supplementary items of the Inter-agency Emergency Health Kit (IEHK) sufficient for a population of approximately 200 000 for 3 months.
The consignment also included 3 intensive care unit ventilators and monitors along with personal protective equipment and virus transportation medium, all of which comes as timely support to the Ministry of Health's efforts to fight and contain COVID-19 in the Kurdistan region.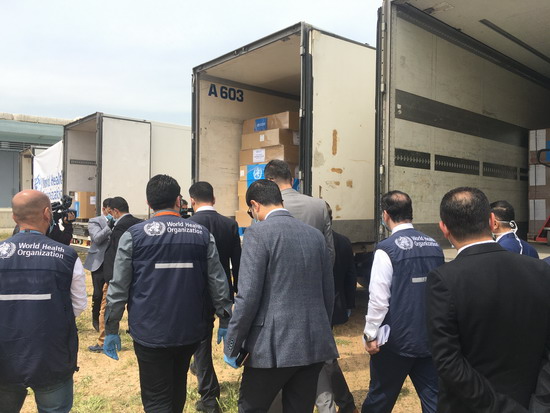 "WHO is concerned about the health of the Iraqi people and will continue to provide the technical and logistical support required to protect health staff of both federal and regional ministries, as well as all Iraqi citizens," said Dr Adham Ismail, WHO Representative in Iraq.
This important shipment was welcomed by health officials in Kurdistan. "We appreciate WHO's support to the Ministry of Health. It will assist in equipping our national health staff who are working very hard to contain COVID-19 in the Region," said Dr Saman H. Barzangy, Minister of Health of the Kurdistan region. The supplies will support COVID-19 response activities implemented by the directorates of health in Kurdistan. The supplies also included a shipment of 30 hospital beds that were sent to Sulaymaniyah.
As of 18 April 2020, Kurdistan health authorities reported 337 confirmed cases of COVID-19 with 4 associated deaths and 244 recoveries.
WHO gratefully acknowledges the support of Kuwait and USAID and their generous contribution which made possible the provision of these much needed medical supplies and equipment to the Ministry of Health of Kurdistan to fight COVID-19.
For further information, please contact:
Ajyal Sultany
WHO Communications Officer
+964 7740 892 878
This e-mail address is being protected from spambots. You need JavaScript enabled to view it
Baraa Shabaa
WHO Communications Officer
This e-mail address is being protected from spambots. You need JavaScript enabled to view it
Related links
Latest information and global updates
Iraq produces COVID-19 laboratory supplies to test more cases rapidly
The fight to contain COVID-19 in Iraq