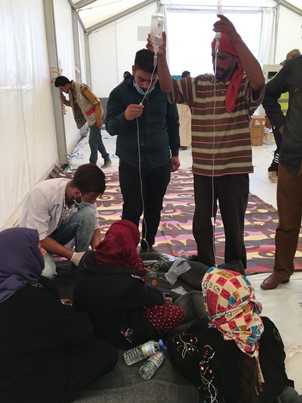 Baghdad, 13 June 2017 – The World Health Organization, in coordination with Erbil and Ninewa Directorates of Health, rapidly responded to a suspected foodborne illness outbreak in Hassan Sham U2 camp by conducting an investigation with the aim of identifying the source and cause of the outbreak, treating those who are ill as well as containing and preventing any spread.    
On 12 June 2017 at approximately 21:00, the Directorate of Health of Erbil received notification of suspected foodborne disease in Hassan Sham U2 IDP camp, west of Erbil. Together with Erbil health authorties, an investigation team was dispatched to the field. Eight hundred and twenty five (825) cases have been reported, of these 638 were referred to various health facilities; 386 cases have been admitted to hospitals in Erbil. Currently no deaths have been documented. The affected communities are mainly internally displaced people from west Mosul, of whom a third of all the cases were children and two thirds were female. 
Stool and food samples have been collected and transported to Central Public Health Laboratory in Erbil for further analysis. 
The majority of the cases predominately presented with vomiting, abdominal pain and diarrhoea, consistent with foodborne illness. All patients referred to health facilities have rapidly improved on supportive medical treatment. 
Critical outbreak response measures 
94 ambulances dispatched to the camp to support the tranfer of patients to various hospitals where they could receive prompt emergency care and supportive treatment.  
IV fluids, oral rehydration salts and cannulas have been dispatched to the health facilities to urgently respond to the needs.
food and stool samples have been sent to Central Public Health Laboratory in Erbil.
a WHO medical team visited the camp and Central Emergency hospital in Erbil to conducted additional investigations. 
health partners: International Medical Corps, ADRA, International Organization for Migration, Médecins Sans Frontières and Barazani Charity Foundation are effectively identifying and managing cases.
The Ministry of Health will communicate the findings of the laboratory investigations and report to all health partners and stakeholders in Iraq. In Light of this event, Erbil Directorate of Health further reiterates its earlier instruction to all camp managers to avoid any distribution of hot meals to IDPs.