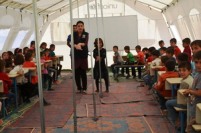 The outbreak underscored the value of EWARN in humanitarian crisis settings for early detection and control of epidemic-prone diseases. It is currently being scaled up by WHO in all countries affected by the Syria crisis17 November 2013 – Humanitarian crisis are often associated with increased risk of communicable disease outbreaks due to the exposure of refugees populations to multiple risk factors.
These risk factors may include: unsafe water; overcrowding and poor or insanitary living conditions in the camps; lack of access to clinical and preventive services; exposure to new pathogens due to the displacement of people to unfamiliar environments; and sometimes, conditions associated with the crisis that favour proliferation of disease-causing pathogens.
Since the Syrian crisis began in 2012, an estimated 200 000 refugees have crossed the Syrian border into the Kurdistan region of Iraq. More than 85% of these refugees reside in nine camps that have so far been set up in three governorates of Kurdistan region.
While commendable efforts have been made by the government and national partners to improve conditions in these camps, poor water and sanitary conditions and high population densities in camps are placing the Syrian refugee population at increased risk of communicable disease outbreaks.
Optimal capacity for early detection of potential disease outbreak through an effective Early Warning and Alert Response Network (EWARN) system is a critical component of response to humanitarian emergencies. Between 10 and 26 September, WHO and the Ministry of Health in the three governorates of Kurdistan region successfully established capacities for early detection and response to disease outbreak among refugee populations and host communities by implementing EWARN in the camps and strengthening regular communicable disease surveillance activities outside camps and outbreak preparedness and response capacity.
A suspected hepatitis outbreak in Kawargosk camp in Erbil governorate of northern Iraq was recently detected by EWARN. The refugee camp was established as a transit camp for Syrians refugees on 22 August 2013 following a major surge of inflow of refugee into northern Iraq from mid-August 2013. It has since grown and currently accommodates close to 15 000 Syrian refugees. During the second week of October, the health workers in Kawargosk camp reported some suspected cases of acute jaundice syndrome through the EWARN system that had been in operation in the camp for less than a month. The WHO Erbil office and the Regional Office jointly conducted an epidemiological investigation during the last week of October to confirm and verify the diagnosis of the acute jaundice syndrome cases and identify the source of infection causing the outbreak. Blood samples were collected from the suspected cases of acute jaundice syndrome which were later confirmed to be hepatitis A by serological test. A total of 17 cases of hepatitis A were detected through the investigation, mostly among the children. Appropriate control measures were implemented in the camp to minimize the virus transmission among the children and their contacts.
Health education sessions, especially on proper hand hygiene, was organized in schools in the camps focusing on hepatitis A, its mode of transmission and how to prevent the infection by the local health authorities and international partners with support from WHO. As a result, cases of hepatitis A have now started to decline in the camp.
Related links