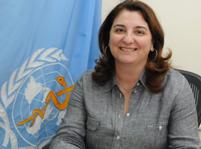 Dr Jihane Tawilah, WHO Representative for Islamic Republic of IranDr Jihane Tawilah has been the WHO Representative for the Islamic Republic of Iran since 2 January 2012.
Dr Tawilah received all her graduate and postgraduate training in the American University of Beirut in Lebanon. She is a medical doctor by training and specialized in family medicine. She also holds a Masters degree in public health with a focus on health services administration.
She started her career with WHO in 1990 serving in her own country, Lebanon, where she established and managed the National AIDS Control Programme. Later, she assisted in other WHO collaborative programmes with the Ministry of Public Health in Lebanon, in the areas of health promotion and education, control of diseases including epidemiological surveillance, women's development and health research. She has also held the position of Lecturer in Epidemiology as well as Social and Preventive Medicine at the Faculty of Medical Sciences of the Lebanese University in Lebanon for seven years.      
In 1997, Dr Tawilah worked with UNAIDS first as consultant then as Inter-Country Regional Adviser for the Middle East and North Africa Region after which she was appointed by WHO as Regional Adviser on HIV/AIDS and Sexually Transmitted Diseases and was based in Egypt at the WHO Eastern Mediterranean Regional Office for five years. She also served as WHO Representative in Djibouti from 2003 to early 2007.