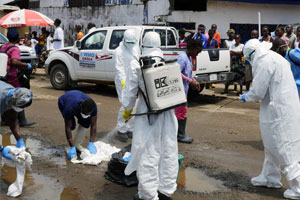 Ebola virus disease (EVD) is a severe, often fatal, illness in humans. The virus is transmitted to people from wild animals and spreads in the human population through human-to-human transmission. The case-fatality rate for Ebola infection in well studied outbreaks in Africa has ranged from 25% to nearly 90%.
The virus family Filoviridae includes 3 genera, namely Cuevavirus, Marburgvirus, and Ebolavirus. The genus Ebolavirus includes 5 species – Zaire, Bundibugyo, Sudan, Reston and Taï Forest. The first 3 of these have been associated with large outbreaks in Africa, including the major EVD outbreak of 2014–2016 in Sierra Leone, Liberia and Guinea, caused by the Zaire species.
The virus first appeared in 1976 in 2 simultaneous outbreaks, one in Sudan, and the other in Democratic Republic of Congo. The latter occurred in a village near the Ebola River, from which the disease takes its name.
To date, no EVD cases have been recorded in the Eastern Mediterranean Region. Between October 2014 and February 2015, 20 out of 22 countries in the Region conducted a rapid assessment of their preparedness and readiness measures for Ebola. The gaps identified were addressed through a 90-day action plan (March–May 2015), which ensured the implementation of multiple public health measures in the areas of leadership and coordination, capacities at points of entry, surveillance and contact tracing, laboratory detection and diagnosis, infection prevention and control and risk communication.
Latest resources on the Ebola outbreak in the Democratic Republic of Congo