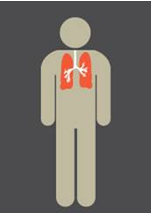 Chronic respiratory diseases are chronic diseases of the airways and other structures of the lung. Some of the most common chronic respiratory diseases are: asthma, chronic obstructive pulmonary disease, occupational lung diseases and pulmonary hypertension. Chronic respiratory diseases constitute a public health problem that impose a substantial burden.
Although some chronic respiratory diseases cannot be cured, appropriate management can control the disease and enable people to enjoy a good quality of life. Smoke (tobacco smoke, smoke from wood-burning or kerosene stoves and fireplaces), aerosol sprays, strong odours (perfumes, cologne, gasoline fumes) and dust and air pollution can trigger attacks by irritating sensitive airways.
Smoking is very common in many countries of the Eastern Meditteranian Region. The WHO Framework Convention on Tobacco Control was developed in response to the globalization of the tobacco epidemic, with the aim of protecting billions of people from harmful exposure to tobacco. It is the first global health treaty negotiated by WHO, and has been ratified by more than 167 countries.
WHO also leads the Global Alliance against Chronic Respiratory Diseases, a voluntary alliance of national and international organizations, institutions, and agencies working towards the common goal of reducing the global burden of chronic respiratory diseases. Its vision is a world where all people breathe freely. The Global Alliance against Chronic Respiratory Diseases focuses specifically on the needs of low- and middle-income countries and vulnerable populations.
Related links
WHO Framework Convention on Tobacco Control
Global Alliance against Chronic Respiratory Diseases