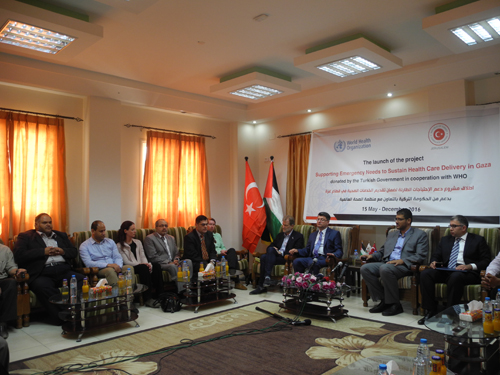 1 June 2016, Jerusalem – WHO and the Government of Turkey held an event on 31 May 2016 in Gaza's Dar Al-Shifa hospital to mark the start of implementation of a USD 1.5 million assistance package from Turkey for emergency needs in the Palestinian health sector. The project will provide Gaza's 13 hospitals and 54 primary health care centres with fuel sufficient for the next 6 months, and will provide the most needed medicines for patient care. WHO is coordinating the project with the Ministry of Health and UNRWA, and providing logistical assistance.
H.E. Ambassador Mustafa Sarnιç, Consul General of Turkey in Jerusalem, said, "Turkey is resolute in maintaining its efforts to meet the basic needs of the Palestinian people at this time."  The Turkish delegation to the event at Shifa Hospital also included Deputy Consul General Husamettin Arslan of the Turkish Consulate. The donation was made at the request and with the agreement of the State of Palestine, according to Turkey's Ministry of Foreign Affairs, under its Prime Ministry Disaster and Emergency Management Authority (AFAD).
In his remarks, Dr Gerald Rockenschaub, WHO Head of Office for the West Bank and Gaza, thanked the Government of Turkey and said, "WHO values this initiative as a meaningful and very timely contribution to the health of Palestinians in the Gaza Strip. The hospitals and clinics are constantly facing chronic shortages of basic materials and power, with medicines and fuel for electricity generators at critical levels. Turkey, along with other members of the international community, has been a reliable contributor toward maintaining health services."
At the end of April, the zero stock levels of medicines and medical disposables at the Gaza central drugstore was 29% and 41%, respectively, and fuel reserves relied on by hospitals to power generators during frequent long blackouts of power were almost exhausted.

For further information:
Gerald Rockenschaub
WHO Head of Office, West Bank and Gaza
Tel: +972 54717 9025
Email: Cette adresse email est protégée contre les robots des spammeurs, vous devez activer Javascript pour la voir.
Mahmoud Daher
WHO Head of Gaza sub-office
Tel: +972 598944650
Email: Cette adresse email est protégée contre les robots des spammeurs, vous devez activer Javascript pour la voir.
Husamettin Arsalan
Consulate General of Turkey in Jerusalem
Tel: +972 779853308
Email: Cette adresse email est protégée contre les robots des spammeurs, vous devez activer Javascript pour la voir.
Related links: 
Press release in English
Press Release in Arabic