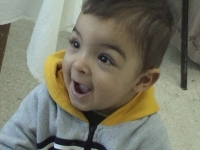 The child health and development programme of the Eastern Mediterranean Region works to promote the health and psychosocial development of children under the age of five. It provides technical support to countries in the development of child health policies, strategies and operational plans.
The programme supports implementation of cost-effective interventions under the integrated primary child health care strategy "Integrated Management of Child Health (IMCI)" in countries, in collaboration with partners. It collects, analyses and shares information on child health in the Region. The programme also works with teaching institutions to enhance the teaching of public child health-related approaches in pre-service education in medical and allied health professional schools. It engages in child health research of regional public health significance to update guidelines and interventions.
To support planning, implementation, monitoring and evaluation of national child health programmes and initiatives, the child health and development programme has developed regional guidelines on national child health policy development and planning at district level, a framework for planning for the community component of the integrated child health care strategy, training materials on counselling on infant and young child feeding and on caring for sick children in the community, and a comprehensive package for medical teaching institutions to introduce, implement and evaluate the IMCI strategy in their teaching programmes.