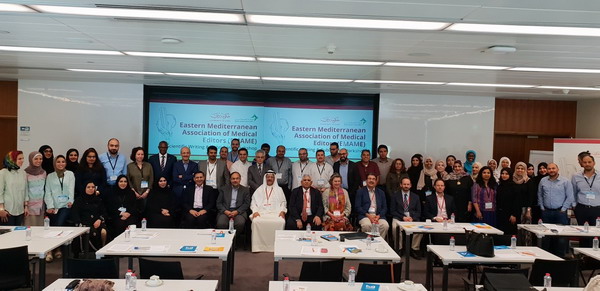 Participants and facilitators at the EMAME–DHA Workshop on Scientific Writing and Publishing hosted by Mohammed Bin Rashid Academic Medical Centre, Dubai, United Arab Emirates
9 July 2018 – The Eastern Mediterranean Association of Medical Editors (EMAME), in collaboration with Dubai Health Authority (DHA), organized a 3-day workshop on medical writing and publishing from 22 to 24 June, 2018, at the Mohammed Bin Rashid Academic Medical Centre, Dubai, United Arab Emirates.
The workshop was attended by 69 participants from countries of the Region, including Egypt, Palestine, Sudan, and the United Arab Emirates. The facilitators for the workshop included Professor Yousef Al Bastaki, Director, DHA Medical Education Department; Professor Hamid Yahya Hussain, DHA Professor of Community Medicine; Professor Farhad Handjani, EMAME President, Islamic Republic of Iran; Mr Shaukat Ali Jawaid, EMAME General Secretary, Pakistan; Ms Karen Shashok, AuthorAid, Spain; Mr Philip Purnell, Director, Research and Publishing, Knowledge E, United Arab Emirates; as well as Mr Phillip Dingwall, Managing Editor, Eastern Mediterranean Health Journal, and Dr Ahmed Mandil, Coordinator, Research, Development and Innovation, WHO Regional Office, Cairo, Egypt.
The subjects which were discussed in detail during the 3-day workshop included types of scientific articles, web medical search engines, arts and concepts of developing different sections of a scientific paper, referencing, journal selection, peer review process, online submissions, medical journal offices, research and publication ethics, introduction to scientometrics, and ghost authorship. These were followed by open house discussions, as well as practical exercises in small groups with facilitators.
EMAME Executive members present on this occasion used this opportunity to discuss different measures to develop more EMAME events, as well as looking at refreshing the EMAME website and updating the Manual for Editors of Health Science Journals. On the occasion of this successful workshop, EMAME plans to look into hosting workshops and seminars on topics related to scientific publishing in other locations in the Region.