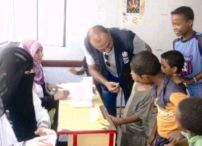 Schistosomiasis is a chronic disease caused by parasitic worms. At least 243 million people required treatment for the disease in 2011.12 November 2013 – A national schistosomiasis (bilharzia) eradication campaign was launched on Monday, targeting around 3 600 000 people in 51 districts of 12 Yemeni governorates.
About 4268 teams, 946 supervisors and 8536 medicine distributors are taking part in the four-day campaign that has been organized and funded by the joint partnership of the Ministry of Public Health and Population of Yemen, WHO, the World Bank and the Schistosomiasis Control Initiative, Imperial College, London.
» Full story
Sana'a, 20 November 2013 — WHO Yemen celebrates the 60th anniversary of setting up its first office in Yemen. The celebration will include a series of events that will take place over the coming months.
In 20 November 1953, WHO was one of the few international organizations to be established in Yemen. Since then, the Organization has created effective partnerships with the public sector, nongovernmental organizations and international donors to progress towards better health conditions in the country which was suffering from lack of basic health services.
With the WHO's direct intervention, Yemen has seen the eradication of several diseases such as polio, chicken pox, Guinea worm disease and Smallpox.
» Full story
Widespread schistosomiasis eradication campaign launched in Yemen

WHO's Yemen country office celebrates 60 years