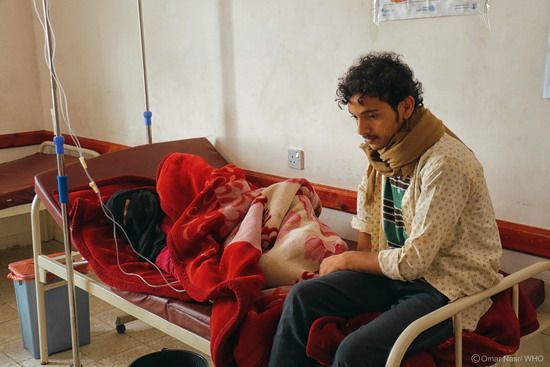 27 February 2020 – In a health centre called the 26th September, 50-year-old Mariam fought for her life as cholera and heart disease ravaged her body. Mariam was rushed to the health centre after suffering from severe watery diarrhoea, dehydration and hypertension.
"She was shaking uncontrollably, and I was terrified to lose her especially as she also suffers from heart disease," said Waheed, Mariam's young son.
Two days have passed since Mariam was hospitalized, now she is receiving treatment for cholera.
"I had suspicions that my mother had cholera. I was infected with cholera 2 years ago, so I understood the symptoms, this is why I rushed her to the same health centre where I was treated successfully," Waheed added.
In late 2016, the world's largest cholera epidemic swept Yemen, and at present more than 1.3 million suspected cases of cholera have been recorded. This, as well as other disease outbreaks, is the inevitable result of the ongoing conflict and fragile health system.